March 17, 2008
The New York Times Further Undermines My Trust in the Media
Nice overwrite here by the NYT...they write an article with this quote

Mr. Cheney, who arrived in the Iraqi capital with his wife and daughter on an unannounced trip Monday morning, will meet with top officials including the Iraqi prime minister, Nuri Kamal al-Maliki, a Shiite, and the Iraqi president, Jalal Talabani, a Kurd.

According to a pool report of comments made by a senior administration official who was flying with Mr. Cheney, the vice president plans, among other things, to push Iraqi officials to pass petroleum legislation that would help bring international oil companies to Iraq.

The official described it as being about Iraqi leaders "figuring out how they really begin to exploit" the country's resources, according to the pool report.
see the Google snippet here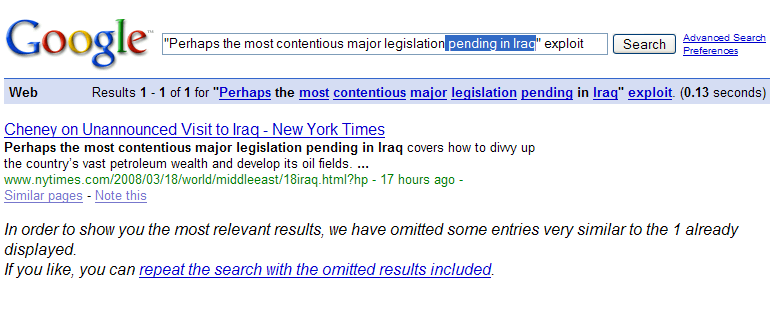 Then they decided to overwrite that page with news of an Iraq bombing. Shady.
Original content here. A related funny video is right here

Posted at March 17, 2008 11:58 PM